Brownback Fails His First Election Test

No-Name, No-Money Challenger Gets Nearly 40% Of GOP Primary Votes

This Tuesday

Kansas saw its first official polling of the campaign - and the numbers were unkind to Sam Brownback.
When all the votes were counted, only 63% of Kansas Republicans thought Brownback deserved to be re-elected. The remaining 37% preferred Jennifer Winn, a landscaper from Wichita who spent a total of $13,000 on her campaign.
But not Sam Brownback. He should have breezed to victory as he had in his past two statewide primary elections when he won an average of 85% of the vote. This poor showing led the Salina Journal to ask the $64,000 question:
"How does a political newcomer...with no name recognition or funding and who ran for office only because her son was charged with murder...get 37 percent of the votes against a sitting governor?"

We've got some thoughts on why voters would reject Brownback (attacks on schools, poor economy, bankrupting the state), but this week provided additional evidence of just why Kansas Republican voters wouldn't vote for Sam Brownback.
First, the state of Kansas saw its credit rating downgraded...yet again. Three months ago, Moody's downgraded Kansas' credit rating because of Sam Brownback's "sluggish economic recovery." This week, Standard & Poor's cited Sam Brownback's "structurally unbalanced budget" when they decided to downgrade our rating.
A weak economy and an unbalanced budget that threatens school funding are as good of reasons as any to vote against an incumbent. Many Republicans must agree and voted accordingly.

Or maybe some Kansas Republicans are upset with Brownback because Kansas is the only state in the country to see our rate of uninsured residents significantly rise. While the rest of the country is enjoying expanded health care and improved health, Kansas saw our uninsured rates jump nearly 40%. Just check out the map below and see if you can spot the outlier.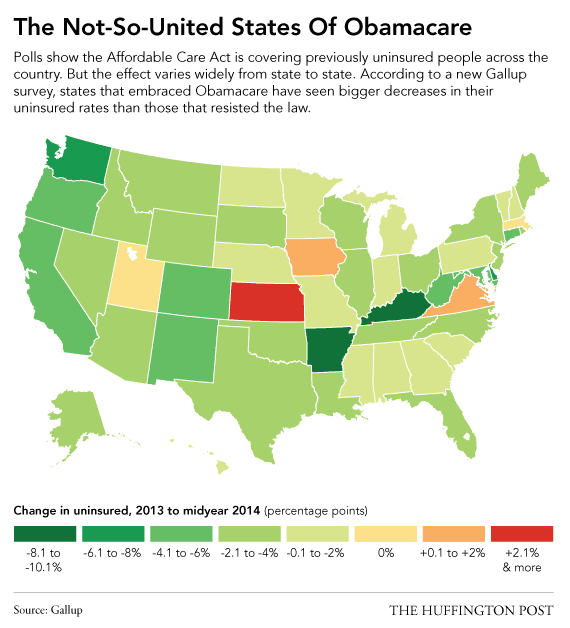 See red, red Kansas? We assuredly would have not seen such an increase if Brownback had followed the lead of responsible Republican and Democratic governors and expanded Medicaid.
Instead, Brownback refused to return Kansas tax dollars to our state, meaning thousands of Kansans will go without care, our hospitals will lose billions in revenue, and Kansas workers will miss out on the 5,000 or so jobs Medicaid expansion would have created.
Those are all sobering numbers and Kansas' exploding uninsurance rate only makes them worse. Add them all up and it's clear Kansas is headed in the wrong direction under Sam Brownback's failed leadership.
Surely Brownback's refusal to expand Medicaid was another reason some Republicans voted against him

on Tuesday

.

We could go on about all the legitimate reasons Kansans might want to get rid of Sam Brownback. But according to Brownback, we'd be wrong. Turns out his poor showing had nothing to do with any of his failures or ideological blunders.
Want to guess why Brownback thinks so many Kansas Republicans voted against him? We'll give you a hint: it's the same excuse he gives every single time something bad happens.
That's right, Barack Obama.
Forget logic, forget reasoning, forget basic respect for other people's intelligence. Sam Brownback is hell bent on sticking to his "BLAME OBAMA" strategy regardless of how stupid or illogical he sounds.
Don't believe us? Here is Sam's exact statement:
"I think a big part of it is Barack Obama," Brownback said. "[A] lot of people are so irritated at what the president is doing, they want somebody to throw a brick."



You get that? Kansas GOP voters are so mad at Obama that they're taking it out on the far-right Sam Brownback who would rather eat nails than admit Obama is anything more than a glorified community organizer.

Brownback's blame Obama schtick got old long ago. But at least we know what to expect for the next three months: more bad news, more inane excuses, and more blaming President Obama for all of Brownback's problems.
Our only question: who is Brownback going to blame when he loses this November?
Help us find out - volunteer today so we can #RestoreKansas and see just how Brownback responds to being held accountable.

_________________________
REMINDER - Two Weeks Until Demofest 2014
Join Us In Wichita for Demofest 2014 on

Saturday, August 23



Demofest 2014 is just two short weeks away. Plan on joining Paul Davis, Jill Docking, and other Kansas Democrats this

August 23, 2014

in Wichita.

This year's Demofest will be held at the Drury Plaza Hotel Broadview (MAP).
Rooms have been blocked off for Friday and Saturday night. Please make your reservations by

Monday

,

August 11

, to receive the group rate.

More details will follow soon, but for now if you have any questions contact Mollie Moravac at mollie@kansasdems.org.


KANSAS POLITICS
The next governor?
Kansas bond rating downgraded after tax cuts
How Kansas and Colorado are getting more divergent
Kansas is the only state to see a significant number of uninsured rise
Brownback victory party dampened by another credit drop
Colyer says loans in Kansas race "cash management"
Davis rides discontent with fiscal experiment
Democratic challenger says it's time for change
Brownback wins closer than expected primary
Brownback's primary performance a bellwether for November polls
GOP governor's race starts attack ads in governor's race
Kobach PAC mailers not reflected in spending report
Effort to unseat House Moderates comes up short
Fox: Primary results should concern Republicans
Democrat sees Roberts as vulnerable
18-year-old wins primary in House race
Hutchinson hospital CEO calls for Medicaid Expansion
Salon: Brownback on his growing unpopularity: It's Obama's fault!
Kansas is the new battleground for the soul of the GOP
Wicked politics in Kansas; big trouble on the yellow brick road
Hot issues grab voters' attention
Brownback vulnerability shows in misleading campaign loan
Would be tax cutters watching Kansas experiment
Kobach again demonstrates disdain for duties of office
Latest blow to Brownback: Kansas debt downgraded
Brownback's Kansas downgraded again, but the mythmaker rolls on
Rating change: Kansas governor
Here are two more signs Brownback is in trouble
Primary cause for alarm for Brownback campaign
Blame Obama
The almost election revolution
Ready for some change?
Republican rift
Medicaid as investment